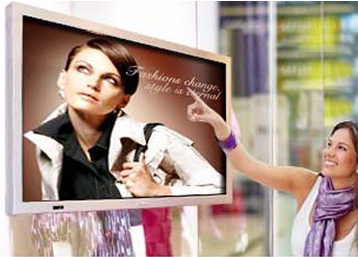 Shop windows, like any specific application, have a particular set of needs when it comes to choosing an LCD monitor. Consider why you are installing a shop window LCD monitor. Do you want to attract attention from passers-by? Do you need to display content that is updated regularly? Do you want to show video content, moving animations, or static images and text? From how far away do you want the screen to be readable? Do you need the screen to be an interactive touch screen, or just a display?
Size
The most obvious consideration for a shop window LCD monitor is the size of the screen. In a shop window a large LCD screen size is essential to capture people's attention. Consider a
minimum size of 42″ for small shops, or preferably up to 65″
for maximum impact. Of course the size will also depend on what else you plan to show in your shop window. If there is nothing but LCD screens in the window, then you might even install
multiple LCD monitors
so you can fill up the window with bright colourful displays.
Brightness
The brightness of the shop window LCD monitor will depend on where your shop is located. If the window faces outdoors, then it is critical that the LCD monitor should be a
sunlight readable high brightness
model (1000 nits), so that the displayed images stand out even under direct sunlight. Most regular commerical LCD monitors do not offer this feature. You will also need to consider how the LCD monitor looks at night. If the screen stays at full brightness at night time, it will be too dazzling for people to comfortably look at in the dark. The solution is the
"Auto Dimming" feature
, whereby the screen includes a light sensor and automatically dims itself when the ambient light level is low. Hence for an outdoor facing shop window, the LCD monitor needs both Sunlight Readable High Brightness, and Auto Dimming. If on the other hand the shop window is completely indoors, for example in a large shopping mall, it is usually not necessary to get a Sunlight Readable LCD monitor. However you still need the screen to project a bright image, so the best option is usually an
LED backlit
model with a higher than average brightness (say 450 nits).
Casing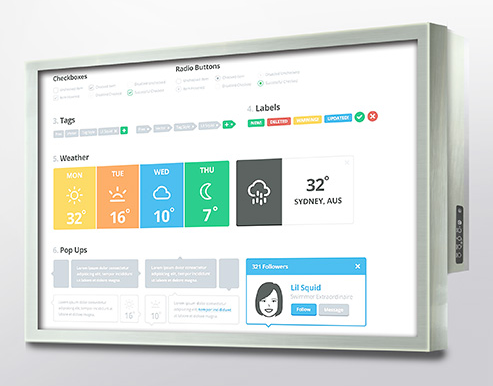 Generally shop window LCD monitors will be mounted behind the glass, in a central location in the window. Hence you need to choose a monitor casing that
looks smart from the front, sides and even the back
. This means that panel mount industrial monitors are not suitable – you will need a model that has a fully enclosed chassis that looks smart from all sides when used as a stand alone monitor. For retail situations, a
metal chassis
is a better idea than plastic. This is because plastic casings are not as robust, and tend to deteriorate and look dated fairly quickly. For an even smarter appearance, consider a monitor with a
stainless steel chassis
– this will lift the appearance of your retail space with its sleek modern looks.
Built-In Media Players
Most shop window LCD monitors will be used for playing repetitive loops of content, whether it is video, slide shows, moving graphics or static images and text. This content will need to be generated by some kind of media player or PC. The simplest way of doing this is to buy a monitor that has a
built-in media player
board. You can then just load your media via a USB stick and run it. Alternatively if you want to use a PC or Mac to feed the content to the monitor, simply buy an LCD monitor with an
HDMI input
, and connect it up to your PC or Mac with an extended length HDMI cable (or wireless HDMI extender).
Touch Screens
In some cases a touch screen will also be required in a shop window LCD monitor. If the monitor is to be mounted behind the glass, there are very few touch technologies that work through a glass window external to the monitor. This will require a specialised touch solution. Alternatively you could consider mounting the
LCD monitor outside the shop window
. In this case, if the monitor is outdoors, consider using a
stainless steel fully sealed IP66 monitor
. The touch screen will also need to incorporate vandal resistance, and preferably operate when it is rained on, so the preferred touch screen type in this scenario would be
Projected Capacitive with 6mm Glass
.
Mounting method
Mounting methods used in retail windows vary, and you will need to consult your shopfitting specialist to find out the mounting options that fit with your shop decor. Common mounting methods include floor-to-ceiling poles with "donut" brackets on them, which mount the LCD monitor using a
standard VESA mounting
. Free standing LCD monitor trolleys are another quick and easy option, which allows the monitor to be moved around. Most mounting methods will however require that the monitor has a standard VESA mount on the back, which works with all standard mounting brackets and trolleys.
Reliability of the Shop Window LCD Monitor
Shop window LCD monitors typically operate 24 hours a day, 7 days a week. Hence you will need to make sure the LCD monitor is designed for full time operation, with maximum reliability. This can be achieved by choosing a monitor that uses industrial grade components. Another consideration is that shop window LCD monitors that experience direct sun, can be subjected to high temperatures. This can especially be a problem when the monitor is a high brightness model – some high brightness panels also generate extra heat, in addition to the heat radiated by the sun. Hence make sure that you choose an LCD monitor that is rated at least up to 50 degrees C, and that uses LED backlight technology to minimise heat generation.