Our product range covers a wide variety of industrial LCD Monitors. The major monitor types are listed below. In addition, we offer a wide range of options with each model – you can order your monitor with the exact options you need, even for small orders. The most popular monitor options are shown to the right.
Our popular Smart Chassis industrial LCD monitors combine a smart appearance (front and back) with a rugged and long-lasting metal housing. This range is well suited for mounting in front of walls, on desks, or from ceiling hangers. They can also be provided with mounting brackets at the front, for rear-mounting into a panel.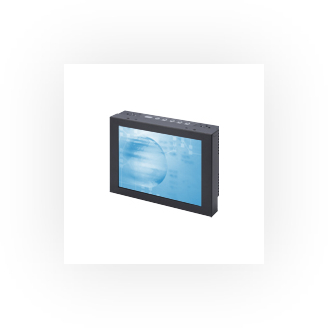 Our classic Panel Mount Industrial LCD monitors are designed for mounting into a panel or wall. They combine an all-metal housing with a smart front bezel, making it easy to fit into most industrial environments. The OSD buttons are on the side panel, preventing tampering. This range is also available with a sealed IP65-rated front, suitable for harsh environments.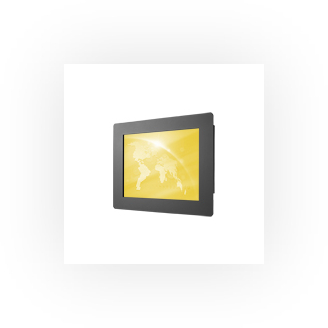 Our Open Frame Industrial LCD monitors are perfect for integrating into kiosks, or rear-mounting in walls or panels. They provide easy mounting options and offer a rugged metal rear housing, without a front bezel.
For applications where LCD monitors are exposed to water or chemicals, our IP66-rated fully sealed stainless steel LCD monitors provide the ultimate in rugged protection. These monitors can handle the harshest of environments, including wash downs, outdoor use etc., and are built to last. The OSD controls can also be provided as a separate wired remote control for convenience.
Our IP66 Stainless Steel and Front Panel Mount models can be provided in Marine Grade and Vehicle Grade versions. This means that the monitors are internally strengthened against shock and vibration, and offer a wide tolerance DC power supply input, as well as providing a wide dimming range for night use. The Marine Front Panel Mount models also offer IP65 front and IP54 rear, with protective glass and anti-rust powder coating. A similar model is available with an adjustable tilt mounting.
We also offer LCD touch-screens in a plastic housing, suitable for POS/Kiosk and general office use. These are cost effective monitors with fully integrated touch screen, in a range of sizes from 10.4" up to 24". They come with a removable heavy duty stand designed for touch operation, and also offer VESA mounting holes on the monitor itself.
CyberVisuell Rack Mount Industrial LCD monitors are designed for mounting into a standard 19″ rack. With their rugged all-metal housing, smart aluminium front bezel, and industrial grade components, these monitors are built to last.
All models offer the following features:
Rugged metal chassis (except PCx series) with smart, clean appearance
Industrial grade for long lasting performance under constant usage
Wide range of options available with no MOQ, due to modular design
Optional IP65 waterproof front, and some models available fully IP66 sealed
Wide operating temperature 0-50°C
Touch screens: Resistive, Capacitive, SAW, Infra-Red, or Projected Capacitive, or vandal-proof glass
Flexible input options: VGA, DVI, HDMI, Composite Video, S-Video, HD-SDI or built-in Media Player
Optional built-in PC (Panel PC) with various processor options

Power options: DC 12V with mains adaptor, or AC input, or wide range DC input for vehicle use

Optional Sunlight Readable panel and/or LED backlight, with optional wide dimming range for marine/vehicle use

Various chassis designs allow wall mounting, panel mounting, free standing, rack mounting or kiosk integration

VESA compliant mounting on rear

OSD (On Screen Display) buttons can be located on front (panel/rack mount models only), on the side, or on a separate remote control
Touch Screens
Our LCD monitors are available with a variety of touch screens, including Resistive 5-wire, Capacitive, Projected Capacitive, SAW and Infra-Red.
IP65 Front
Our Panel Mount and Metal Chassis monitors are available with IP65 Front for effective protection in harsh environments.
Sunlight Readable
Most of our monitors are available with Sunlight Readable screens, either with a high prightness LED backlight, or with a transflective panel. This can be combined with Wide Dimming Range for marine and vehicle applications.
Input Options
Our Industrial range is available with many different inputs, including VGA, DVI, Composite Video, SDI, etc. The monitors are also available with 12V DC power input or 9-36V DC input. You can specify the input options at the time of ordering.
Click here to find a Distributor
email hidden; JavaScript is required