Is this you?
You are an electrical contractor.

You never have enough time or money.

You work hard and often get stressed.

You need your business to make more profit, to keep it sustainable, but it's not happening because you're always too busy.
Most electricians are in a hurry, keen to finish each job quickly, and get onto the next job. Because you think, the more jobs we can get done in a week, the more money we can make,
right
?
Wrong
.
There is a better way.
Wouldn't you like to make more money, as an electrical contractor, keeping your customers happy, but without the stress of always having to rush to the next job? All you have to do is make a small shift in your mindset, and do a few simple steps.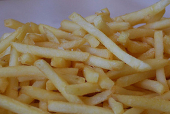 Step 1: Would you like fries with that, Madam?
The first step is to understand the importance of upselling. Let's take McDonalds as an example. They have increased their turnover by 20%, just by having their staff ask one extra question to every customer who orders food. And the magic question is:
"Would you like fries with that, Madam?"
So by simply offering the customer more when they are already buying, you are making the most of the customer's decision to buy from you. And more often than not, customers will thank you for it! The principle of upselling works for electrical contractors just as well as it does for McDonald's. You just have to figure out what are the "fries" that you can offer to your clients, and then make sure you take the time to ask every client if they want more.
Download the Audio Podcast and Cheat Sheet, and Get a BONUS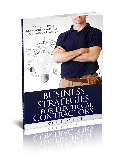 Enter your email address below for your free Audio Podcast and a copy of the full report, and we will also send you a BONUS Upsell Product Checklist!
Step 2: Identify your major client types
Which specific types of organisation do you get the most work from? For example, offices, schools, retail stores, restaurants, or it could even be private people's homes. If you can identify the specific types of clients you deal with the most, this will help you build the best upselling strategy. Write them down on a piece of paper.
Step 3: Identify the upsell opportunities
Think about each client type individually – for example, public schools. What work are you currently doing for them, and what sort of plant and equipment, lighting, etc do they have there? What could they benefit from, that you could upsell to them? For example, upgrading them to energy efficient lighting. That's a very common one for electrical contractors. We've prepared a
cheat sheet
with examples of the things that most electrical contractors can upsell in various industries.
Please punch in your email address and click on the button above to download the full version
of this guide,
along
with the cheat sheet
of up-sell products for electrical contractors, plus more useful tools.
Step 4: Price it all up
The next step is to visit your friendly electrical wholesaler or supplier (in store, online, or give them a call). Go there and find examples of the upsell items. Find a few good examples that you think you can sell. Get the pricing of those items and write it all down on paper, so you know what you have to offer and you know what your buy pricing is. With that, you then need to head back to your office and go through those prices, to figure out how much to sell them for. Write down the buy price, the sell price, and the difference (profit), all excluding GST.
Step 5: Kit yourself up
Now to make this into a practical system that you can use every day, you need to put together a one-page pricelist, listing out 5-10 upsell products. I'd suggest you make a separate page for each client type. List your upsell products, with sell pricing, and some pictures of the various items, and features. Print out a few copies of your upsell sheet, and laminate the pages. Give them to your staff who go on site (or use them yourself if you do the site work). Now every time you or your staff are on site and a job is finished, you or your staff should check the upsell sheet, and have a chat with the client. Let them know about these extras they could benefit from, and show them the pictures and prices.
Step 6: Monitor and tweak the system
Finally, with a system like this, it's absolutely critical that you monitor your results and keep improving your upselling system. At the end of every week, go through your jobs that have been done during the week and make a list of what extra products were offered, and what extra sales were made. From that, you can easily work out how much profit you made out of the upselling exercise. Also note down any issues or wins with the upselling exercise. So every week, you'll end up with a figure of how many dollars were made out of upselling, plus feedback for improvements. You will also have a list of the products that you did upsell, and what you didn't sell. Also talk to your clients to get direct feedback. Now set up a regular schedule to go through the results and make improvements to your system, especially your upselling price lists.
The above is a shortened version of the full report "Business Strategies for Electrical Contractors". The full report contains detailed how-to's and action points, and explores each point in more depth.
Download the Audio Podcast and Cheat Sheet, plus BONUS
Enter your email address below for your free Audio Podcast and a copy of the full report, and we will also send you a BONUS Upsell Product Checklist!